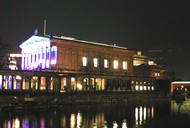 Home to no less than five major exhibition buildings, Berlin Museum Island is one of the most important museum complexes in the world, combining unique archaeological collections and 19th century art. Collections that were split up during the Cold War period are now reunited on Berlin Museum Island.
Discover art history in the heart of Berlin
Berlin's Museum Island is situated right in the heart of the city. Listed as a World Cultural Heritage site by UNESCO, the impressive complex grew over a period of one hundred years and consists of five important museums. Remarkable archaeological collections and 19th century art can be found in the Old Museum, New Museum, the Old National Gallery, Bode Museum and Pergamon Museum. Unmissable exhibits include the Pergamon Altar of Zeus and the bust of the Egyptian queen Nefertiti.