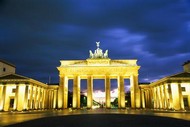 No other landmark better symbolises German history than Berlin's signature attraction. When the Berlin Wall fell in 1989, thousands of East and West Germans celebrated the opening of the borders and reunification of Germany in its shadow. The Brandenburg Gate has a magical appeal for all visitors to Berlin, from heads of state to tourists.
Symbol of German unity
Formerly a symbol of the division of the city and the world into two power bases, Brandenburg Gate is Berlin's signature attraction – no other landmark is a more potent reminder of recent German history. The sandstone gate was modelled on the Propylea, the gateway to the Acropolis in Athens. It is crowned by a quadriga, a bronze sculpture of the goddess of victory riding a four-horse chariot. When Germany was divided the gate stood isolated in the middle of a restricted area by the Berlin Wall. These days it is a popular site for festivals, events and demonstrations.