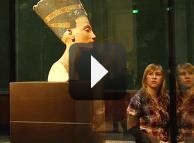 Architects from around the globe are responsible for the magnificent collection of buildings surrounding Potsdamer Platz, such as the Beisheim Center, DaimlerChrysler Center or the Sony Center with its unmistakable marquee-shaped roof. Shopping is at its most compact here in the Potsdamer Platz arcades, which are just under 200m long.
International rendezvous in Berlin's new centre
Potsdamer Platz – in the decades before German reunification it was a no-man's-land, then over the course of a decade it was redesigned and rebuilt and is now Berlin's most important communications hub. The Potsdamer Platz arcades, covering an area of 40,000m2, are an international rendezvous and a shopping paradise with local colour. International goods, exciting cuisine, cinema and even a casino.