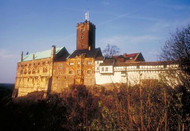 Eisenach, the town of Wartburg Castle, is well known around the world through the life and works of Martin Luther. Sitting majestically overlooking the forests of Thuringia, the castle has witnessed 900 years of history and culture. Martin Luther hid in the castle in 1521-22, during which time he translated the New Testament from Greek into German. Set in the gently rolling hills of the Thuringian Forest, Eisenach is the place where Johann Sebastian Bach was born, Martin Luther went to school and the writer Franz Reuter chose to live.
During the 13th century, Wartburg Castle was the pre-eminent centre of artistic endeavour and the venue of the medieval pinnacle of worldly culture - the minnesingers' contest known as the "Battle of the Bards". With its baroque palace, important museums and well preserved Ekhof theatre, the former ducal town of Gotha has a reputation that goes well beyond Thuringia. They began manufacturing toys in Sonneberg way back in the 17th century. The toy museum has a collection of around 70,000 toys from all over the world.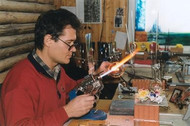 Germany's largest walk-through fissure cave in Meiningen, where you'll find ravines and fissures of up to 50 metres high, is another real must. Did you know that the first artificial eye made of glass was produced in Lauscha in 1835? Few regions can boast such a huge variety of firsts as the Southern Thuringian Forest. As well as being the birthplace of glass Christmas tree decorations, it is also home to a large number of porcelain factories, traditional travelling chemists, slate mines and slate pencil manufacturers.
In addition to regional crafts (glass, porcelain, toys) and the fruits of the forest, the Southern Thuringian Forest has a whole host of other things to collect. How about some gold – that you can find yourself at one of the region's gold-panning sites? Vesser Valley biosphere reserve has some of the region's most beautiful and unique scenery. The different types of moor here are also well worth a visit. Whether you are looking to discover the secrets of glassblowing, follow in the footsteps of Goethe or join the gold rush, whether you are walking, cycling or on an excursion to one of the many castles, palaces, churches, bowers or historical sites – you'll find there's plenty to stop off and see along the way.