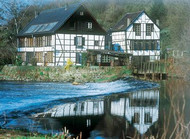 The Müngsten bridge, now over a hundred years old, remains Germany's tallest railway bridge and makes for an impressive sight. The collection of equipment for generating and applying x-rays at the Röntgen museum in Remscheid is also impressive. The dripstone cave in Wiehl is a must-see for cave enthusiasts, with its 1,500-metre long tunnels. The temperature inside is constant at eight degrees centigrade. Just twenty-six steps lead down to an entrance chamber, seven metres below ground. Broad cascades, pillars, columns and other beautiful forms in a dazzling, shining array of colours ranging from brilliant white to glowing red will leave visitors amazed.
A forest and nature trail in the area of the cave provides further interest, with information about trees and bushes and their botanical characteristics. Plant-related myths and legends from the time of the Celtic and Germanic peoples are also explained. A selection of game enclosures allow visitors to observe the local wildlife.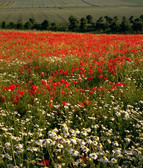 Anyone who has explored the Bergisches Land region actively will need to relax from time to time, perhaps by spending an afternoon at one of the many inns or cafés to be found here. It might be time to stop off for a "Bergische Kaffeetafel", a feast of local specialities that goes way beyond the traditional "coffee and cake". Gourmet tastes are also catered for.
This is a region which draws on the Rhineland traditions and goes that extra step in its love for living it up. The Bergisches Land region and its hospitable people eagerly await your visit!