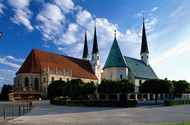 Yes, Bavaria is much more than mountains, beer and baroque. The Benedictines, the Cistercians, the Franciscans and the Augustinians are all represented on the Benedict Trail by their proud abbeys, baroque pilgrimage churches and other splendid sacred buildings. Among the outstanding abbeys on the route are the former Cistercian Abbey of Raitenhaslach, the Benedictine Abbey of Frauenchiemsee, Gars Abbey and the Abbey of Au am Inn - all with a heavenly sense of peace and tranquillity. The Berchtesgaden and the Chiemgau Alps are always in the background as the Benedict Trail winds its way through glorious scenery, past picturesque farmhouses and through historical towns. There is a saying, "All roads lead to Rome". Well, here people say, "All roads lead to Altötting". Altötting is a pilgrimage town in the heart of Bavaria where five pilgrimage trails converge like a star on Kapellplatz (chapel square) in the center of the town, as does the Benedict Trail. The priest has the perfect view from his office – out onto the square and the lawn in front of the church, where walkers and cyclists relax after visiting the Chapel of the Miraculous Image.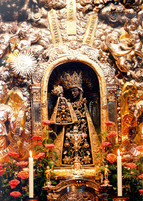 Altötting, the home of the Dear Lady shrine, is a very special place for the adoration of Mary. As a boy, Pope Benedict XVI made a pilgrimage here with his father, to the holy image of the black Madonna. This beautiful statue delights visitors with her motherly, gentle and forgiving smile. How the Madonna came to have a black face is a matter of speculation.
The eventful history of this region between the Salzach and the Inn is reflected in its art and culture, its craft and architecture, its magnificent castles, palaces and abbeys. Pretty onion-domed towers reach up to the blue and white sky almost everywhere you look. The Benedict Trail offers the opportunity to really appreciate these surroundings. At walking pace, you have time to look around, experience things more intensely and register all kinds of new impressions. It's only when you've been somewhere on foot that you can really say you've been there. And if you want to just sit on a bench and admire the landscape now and again, that's fine too, because here, beauty is all around. The region between the Salzach and the Inn caters for all tastes and styles and it has sport, art, culture, nature and traditional festivals in abundance. From fresh rolls in the morning to the landlord's final "good night", you'll enjoy great hospitality and a very warm welcome.