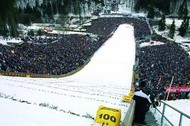 The world's largest ski jump is the venue for the FIS World Cup, where the top ski jumpers compete for important World Cup points and try to smash the previous year's records.
At the heart of World Cup competition action
For years the Ski Jumping World Cup in Willingen has been Germany's premier winter sports event. Tens of thousands of spectators pack out the Mühlenkopf ski jump arena and cheer on their heroes. The ski jumpers themselves look forward to the competition in Willingen with its festive atmosphere and the jump right into the middle of the spectators.