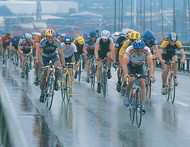 Every year the HEW Cyclassics Cup puts Hamburg into a cycling frenzy, with the finest cyclists in the world pitting their wits against each other in the recently redesigned 251km cycle route in and around Hamburg.
Hamburg in cycling frenzy
Alongside the cycling pros, around 20,000 amateur cyclists also take part. The routes range from 55 to 155km depending on how fit you are. These professional cycling races are so popular they are even broadcast live across Germany.