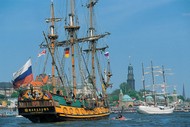 Built in 1189, Hamburg Port celebrates its birthday at the beginning of May. What started out as a small fair, has since become the largest port festival in the world. Around one million people flock to the event every year.
The world's biggest port festival
The biggest port festival in the world boasts a comprehensive programme of events, with numerous activities on water, on land or in the air. There's fun and entertainment for all the family, with music, food and drink, fairground rides and a host of special events, including a gathering of the finest and largest tall ships in the world.