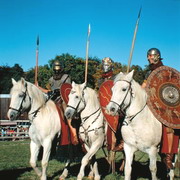 Germany is a country rich in customs and traditions and there is a wide range of festivals throughout the year to celebrate them. The festival year starts with carnival. Carnival is celebrated with greater dedication in parts of Germany than in any other European country. It is a time of elaborate parades, masks, balls and election of Carnival king and queen and official madness and generally takes place in early spring, seven weeks before Easter. In April, Easter markets all over Germany are a wonderful way to rediscover traditions and rituals. Many of the American traditions as we know them, including egg decorating, Easter trees and Easter egg games, were brought to America by German immigrants.

In the late summer and autumn visitors to Germany can enjoy wine festivals in one of the 13 wine growing regions, taste traditional food and mingle with the locals. One of the most famous festivals is the Duerkheimer Wurstmarkt and the Stuttgart Wine festival. In Weimar the 300 year old Weimar Onion Market is an annual happening in honor of the vegetable that always takes place in early October. And of course don't forget about the famous Oktoberfest in Munich and the Cannstatter Vas'n beer festival.
As Christmas approaches, Germany reveals its most atmospheric side. Over 2,500 Christmas markets in wonderful settings invite you to share in the joy of the pre- Christmas season and enter into Germany's special festive mood. Discover a cross-section of typical and popular markets all over Germany, from Flensburg in the far north to Constance in the south, and between Aachen in the west and Bautzen in the east.