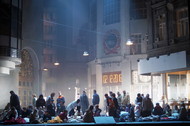 Every Easter this festival, comprising two operas and several symphonic concerts by high-calibre ensembles, captivates an international audience in the opera house on Berlin's Unter den Linden.
Easter performances in Berlin State Opera
Traditionally held at Easter, this festival represents the cultural zenith of the opera season. Staged by the Unter den Linden State Opera, it has become a classic on the Berlin cultural calendar. The festival focuses on traditional compositions by Richard Wagner.