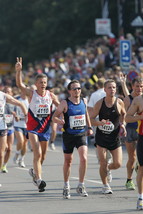 Held in September, the Berlin Marathon is the biggest running event in Germany, with more than 50,000 participants from all over the world. The marathon is as much an experience for the spectators cheering from the side of the road as it is for the runners themselves.
Germany's biggest running event
Not only is the Berlin Marathon the biggest running event in Germany, but its relatively level course make it one of the fastest in the world. Alongside the marathon itself, in which wheelchair users also participate, there is a race for inline skaters plus a mini-marathon for kids. Experience an entire city on the move!