Register with us
Sign up
for our press releases and/or the monthly press newsletter for information about events and cultural highlights in Germany.
Welcome to the media room of the GNTO
Welcome to the media room of the German National Tourist Office. In this section you will find our latest press releases and press newsletters as well as general information on Germany and upcoming events. Access our picture database online, sign up for our monthly press newsletter or find your media contact at the German National Tourist Office in the Americas. Discover the variety of Germany - we look forward working with you.
top
What`s coming up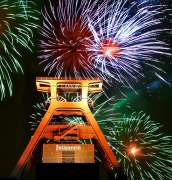 The Ruhr is ROOOOAring - For this year 2010 Essen and the Ruhr region are European Capital of Culture, presenting one of the most exiting metropolitan areas in the heart of Europe. Fifty-three towns and cities in Germany's west with more than five million citizens take the stage to display a fascinating transformation from an industrial power house to a postindustrial cultural center with 200 events and 30 projects in 53 cities. The Theaters, opera houses and concert halls, festivals, the museums, creative businesses, universities and academies all together make up this dynamic metropolitan core attracting millions of visitors from all over the world.
top
What`s hot now: Meissen + Oberammergau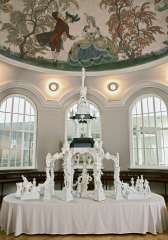 Since 1710, the first European porcelain manufactur has produced the world-famous Meissen porcelain (invented by Johann Friedrich Boettger on behalves of August the Strong, King of Saxony) in its traditional form. Table sets, figurines and accessories are still designed, processed and artistically decorated by hand. In 2010 (April 18 - October 1) the Meissen porcelain manufactur will celebrate 300 years of its existence. Therefore visitors can enjoy several exhibitions in Meissen and Dresden with limited editions of the world famous porcelain, along with celebratory events.
The Passion Play in Oberammergau will be performed for the 41st year, starting from May 15 until October 3. Every 10 years (since 1634) this spectacular religious event takes place in the small Bavarian village of Oberammergau in Germany. Over 2,000 villagers will perform in the 2010 Play, telling the story of the life and death of Christ. All participants must either be born in Oberammergau or have lived there for at least 20 years and the play itself lasts five hours and more than 500,000 visitors from all over the world - over 100,000 from the US alone are expected.
top
Map of Germany

Zoomable interactive Map of Germany with a selection of several topics.
Click here!
Picture Database
See Germany at its most beautiful!
Search our library
of more than 5000 photographs of Germany.